Want to know your BMW inside out? Interested in having a full list of options your vehicle is equipped with? Then decode your VIN for free and we'll send you your full car specification, including head unit and software version.
There's a lot more that goes into understanding your vehicle. That seemingly random string of numbers printed on your BMW's dash or on the driver's side door jamb is more important than you think. Each of the 17 digits actually tells you something specific about your car, from when and where it was built to its feature-set. You can even use it on certain motor vehicle registries to find out whether the car is considered a salvage (repaired after a major wreck) or is listed as stolen. All essential information if you are buying a pre-owned or used car, simply want to do some comparison shopping, or wish to find the right upgrades or parts for your own car.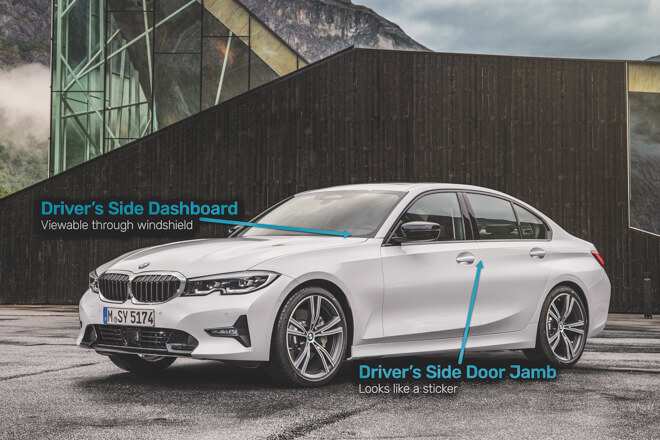 Why do I need to know my BMW's VIN?
As every vehicle has a unique identification number, knowing a BMW's VIN can be a quick and reliable way of finding out more about the car and its past.
Checking BMW service history
Before buying a used vehicle, it's normal to expect to see a record of the maintenance work done on the car through the years. The owner may be able to present a stack of paperwork detailing every service, but it isn't uncommon for these kinds of records to get lost.
Fortunately, whenever a vehicle is serviced by a BMW technician, a computerized record of the work done is kept, including any parts replaced and the vehicle's mileage. This information is all associated with the vehicle's VIN, giving future mechanics an easy way to get an overview of all the work that's already been done, without having to guess at how long the timing belt looks like it's been in the car.
Some commercial services also allow individuals to use a VIN to access all this information themselves, helping anybody shopping on the second-hand market get a clear idea of how well the vehicle has been maintained. Seeing where the services were performed will also reveal where the car has spent most of its life — potentially vital with older vehicles, when the effects of climate become more pronounced. Some providers may even be able to offer more information, including any insurance claims or theft reports in the car's history.
Tracking a new BMW from production to delivery
Having a custom car built to your specifications is exciting, but there's a longer wait than taking whatever the dealer has on the lot. If you've ordered a new car from a BMW factory, your dealer should be able to give you the VIN of your future BMW before production has even started. With this information, it's possible to track your car from the factory to your local dealership.
BMW's records for each vehicle are updated as soon as the car enters production. You'll then be able to see the production date, and know that your car is getting closer. If you're feeling impatient, VINs usually come in order; XXXXX75 will be produced before XXXXX76, and after XXXXX74. Looking up the VINs of vehicles you expect to be built just before your vehicle should give you an idea of how long you have left to wait.
After production is complete, it may even be possible to track your vehicle on its way from the factory to your local dealership. Cars sent in freight generally use the VIN number to identify the cargo, so checking the shipping company's freight records may give you an idea of when it's due to arrive.
Finding aftermarket parts for your BMW by VIN
Many replacement BMW parts or retrofits are designed with a specific vehicle in mind, and rely on a specific factory configuration that may differ from car to car, even in the same model family. This is particularly important when it comes to technology and software retrofits, which must be adapted to your exact vehicle's hardware in order to work.
At BimmerTech, we use your car's unique identifier to make sure that we are sending you parts and kits that fit your exact make and model. That's why we will often ask you for this number during the inquiry, ordering, or installation process. A VIN is enough to tell us exactly which parts and features can be found on your car, letting us prepare a compatible retrofit kit.
A VIN check is required when purchasing all BimmerTech products when compatibility depends on your vehicle's configuration, including Apple CarPlay, Comfort Access, Rear View Camera and iDrive Coding.
We also encourage you to look up your own VIN to help you decide which products are right for your BMW, whether it's at BimmerTech, ModMyNav, or any other reputable online retailer. A great place to start is at a free BMW VIN check, which also works for MINI and Rolls Royce vehicles. Put in the last seven digits of your VIN and they'll tell you everything you need to know to locate the right upgrades and retrofit kits, or just to find out a little more about your vehicle.
As every car's VIN is unique, the information gathered from running a VIN search is specific to the exact vehicle, not just to the model or production run. That means you'll be able to see every little detail about the car you own or are interested in buying. Vague information, like the model code and transmission type, right down to the production date, language version and factory color.

Where can I find my BMW's VIN?
Your BMW's VIN can be found printed on your vehicle. The most common locations are on the inside frame or jamb of the driver-side front door, or on the dashboard near the base of the windscreen on the driver's side. To make identifying a VIN easier, remember that a valid VIN consists of exactly 17 letters and numbers.
If you can't find your VIN on your vehicle or some of the characters aren't clear, you should be able to find your VIN on your vehicle's registration or insurance documents. You can confirm your VIN by checking it online and comparing the returned information to what you know about your vehicle.
To reduce the risk of confusion, VINs never include the letters I/i, O/o and Q/q, which can easily be mistaken for the numbers 1 and 0. If you're having trouble decoding your VIN, double-check that you haven't misread any of the characters.
Is it safe to share my BMW's VIN?
Knowing a BMW's unique VIN is a makes it easy to find out detailed information about the specific vehicle. For this reason, it's common practice to include a VIN in the listing when selling a car, and is generally encouraged. In most vehicles, the VIN is clearly visible through the front windscreen, meaning that — like a license plate number — it is assumed to be public knowledge. For this reason, they are designed to be safe to share.
VIN number breakdown — what does the VIN mean?
Before checking your VIN, it might help to brush up on the VIN decoding system so you can understand what all those digits mean. This is just a general guide, because while the U.S., most of Europe, and some other countries all try to follow the same VIN format, there may be some differences depending on where you live. If you want more details, Wikipedia has them here.
Digits 1-3: These usually tell you where the car was assembled, the manufacturer, and the vehicle type.
Digits 4-8: These describe your particular vehicle, like its model, body style, engine type, and transmission.
Digit 9: This is the check digit, used simply to tell whether there is an error in the VIN, like if you input it incorrectly.
Digits 10-11: Used to tell the year and the factory where it was assembled.
Digits 12-17: Typically these make up the factory's production sequence number, which identify the vehicle itself as a unique product.
As digits 10-11 are unique to each factory, and digits 12-17 will never be repeated by the same factory, the last seven digits of a VIN are enough to uniquely identify a BMW. BimmerTech therefore needs only these last 7 digits of the VIN to accurately match the right upgrades, parts, and retrofits to your car.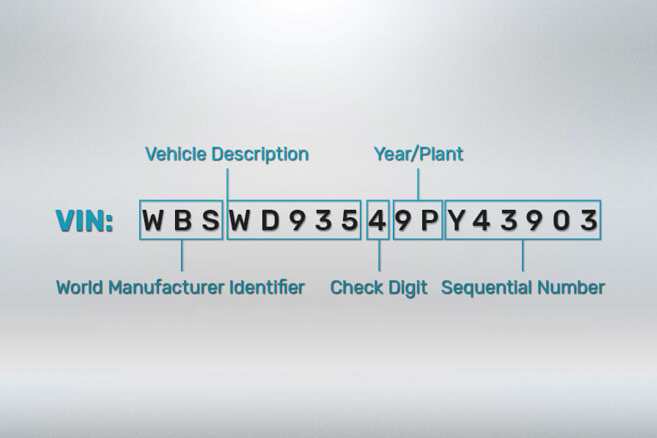 What information can I find from a BMW's VIN?
With a VIN, it's possible to find out a huge amount of information about a car's factory configuration. Some of this information will be obvious just from looking at the car; even a novice shouldn't have any problem counting up how many doors a car has. The color, too, should be obvious, but checking a BMW's VIN will confirm the factory paint job and its color code, and could reveal whether the car has been resprayed during its life. Other information that can be gathered from checking a VIN, however, isn't easily seen on the surface.
Looking up a VIN also gives detailed information about the vehicle's transmission, engine capacity and horsepower, helping you check the accuracy of any questionable second-hand car listings. With the possibility that somebody could be trying to pass off a lower-specced BMW as something beefier, checking the first VIN is a good way to save yourself a wasted journey to take a closer look at what you'd hoped was your dream car.
As well as performance, knowing a vehicle's VIN can also give an idea of what to expect from the in-car experience. The VIN can reveal the iDrive head unit fitted in the BMW, which influences not just the technology and connectivity features available from the factory, but also compatibility with third-party retrofits. Head units like NBT and NBT Evo are packed with more features than older or entry-level head units like CIC or EntryNav.

Looking up a VIN also gives detailed information about the vehicle's transmission, engine capacity and horsepower, helping you check the accuracy of any questionable second-hand car listings. With the possibility that somebody could be trying to pass off a lower-specced BMW as something beefier, checking the first VIN is a good way to save yourself a wasted journey to take a closer look at what you'd hoped was your dream car.
Beyond a vehicle's core specification, a BMW VIN check is also able to provide you a complete list of all the options the vehicle was equipped with from the factory, from the stereo system to the suspension type to the special climate version. This is vital information for checking what to expect from a used car, or to confirm compatibility with aftermarket retrofits.
How do I find which options my BMW has?
Most BMW options have an identifying code in the format S___A. For example, run-flat tires are option S258A, a digital instrument cluster goes under the option code S6WBA and option S522A refers to the optional xenon lights in many vehicles. A small number of options codes are fohermatted slightly differently, e.g. L___A.
Knowing which options you BMW is and isn't equipped with can help you identify compatible upgrades. For example, let's say you want to see if your vehicle has the feature set necessary to install a BimmerTech Alpha One Amplifier. This product is compatible with BMWs with the S676A HiFi system. If you search our sample VIN K329921 at a free VIN lookup tool like decoder.bvzine.com, you will see a list of all the options built into this vehicle — one of which is option S676A, the BMW HiFi Loudspeaker System. With this information, we now know that this vehicle is ready to install a BimmerTech Alpha One Amplifier and it will be with plug and play ease.
One more example. Let's see if BimmerTech can activate BMW Apps in this vehicle. The product page says the car must be built in September 2010 or later and have options S602A (on-board monitor and TV) or S609A (Navigation System Professional) as well as one of the following: S633A, S639A, S644A, S6NKA, S6NLA or S6NHA. A quick check of VIN K329921 reveals the production date (July 5, 2014) and those features in the Options section (has S609A and S6NHA) meaning this vehicle gets the green light.
Ready to check your own BMW? After reading the requirements on any of the BimmerTech product pages, head over to the best BMW VIN decoder and see if you too get the green light. While your VIN report may not show all the options your vehicle has, it's a good place to start.
Perhaps your best step is just to check with us. We're always on-hand to help you decipher your VIN or personally match what you are looking for with your BMW. And we also have retrofit solutions to upgrade your vehicle should it fall short on factory-installed options.
If you need some help or guidance, we're just an email away.